Confidential Policy Evaluator (CPE) Research Reports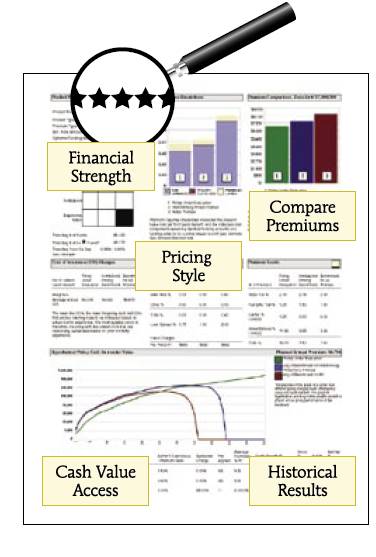 Life Insurance
Product Suitability

...
It is both different and the same as other financial products.

Life insurance is the largest pool of assets about which so few know so little about what they are being charged and what they are getting in the way of investment performance. However, life insurance is the same as other financial instruments in that their operation is a function of expenses charged by the manufacturer and performance of invested assets underlying cash values. And clients look to their advisors for just this kind of research about pricing and performance to make more informed decisions.

Now you can help.

Confidential Policy Evaluator (CPE) research reports from THEInsuranceAdvisor.COM (TIA) are the fastest and easiest way to assist clients in making better decisions about their life insurance. CPE is a patented, objective, rules based system for assessing permanent life insurance policies (proposed or existing) on an easy to use 5 Stari Rating system that will:
Make objective comparisons valid, easy and understandable.
Take the mystery out of complex policy design and pricing.
Identify premium savings and/or opportunities to increase policy.
Determine appropriateness of a policy to each client's situation.
CPE converts dozens of pages, hundreds of numbers, and lengthy disclosures found in a single policy proposal into a comprehensive, yet concise CPE Analysis (shown above right). CPE's 5-Stari Rating system provides a balanced assessment of all 5 factors to be considered and reports on same in familiar financial terms, easy to understand graphics and an accepted rating methodology.
5 Major Factors of Policy Suitability
With permanent life insurance, suitability depends on a number of factors, and the lowest premium may not always offer the best value. The desirability of permanent life insurance products depends principally upon the following five factors:
Financial Strength and Claims-Paying Ability
Cost Competitiveness
Pricing Stability
Cash Value Liquidity
Historical Performance of invested assets underlying policy cash values
All 5 factors contribute to the appropriateness of permanent life insurance policies, and no single factor is sufficient to determine desirability. CPE research reports measure all 5 factors for any policy holding against benchmark averages for peer-group products. An Executive Summary explains the rating and the reasons why the policy under evaluation may or may not be as appropriate as other policies in its peer group, and the User Guide translates "insurance speak" into common financial terms.
The result is an easy-to-use tool that goes well beyond simply comparing illustrations and company ratings. With CPE, you know how the product under evaluation measures up against the benchmarks for all products in its peer group, and why. THEInsuranceAdvisor.COM (TIA) therefore gives you a new, unique, patented service that will help you...
Expand your practice
Build new income streams
Document the exercise of your fiduciary duty
Better prepare you to work with related advisors
Reassure your clients with questions about their life insurance
Identify savings through optimal policy selection and monitoring
Uncover additional benefits available through active portfolio management
Enhance your professional stature
Request a CPE Report View Sample CPE Report
---
iThe Confidential Policy Evaluator (CPE) system was founded invented by Barry D. Flagg (U.S. Patent #6,456,979), and were developed on generally-accepted mathematical and actuarial algorithms and a consistent and objective rules set, and like all ratings systems, rely on certain judgmental techniques, which are fully disclosed, and with which certain insurance professionals may disagree. Because any evaluation of a life insurance product (especially a variable life insurance product) presented by any financial advisor or registered representative, and pursuant to the sale/purchase of such product presents the potential for a conflict of interest, it is important to understand the methodology behind any such evaluation and the relationship between the evaluator and the registered representative.